Research Land System Science
The Department of Geoecology maintains four landscape laboratories that extend from the central and lower Harz mountains, the eastern Harz foreland, the Helme-Unstrut stratified plain and the Querfurt plate to the Finne on the one hand and to Mecklenburg-Western Pomerania in the north-eastern German lowlands on the other. The Central German drylands, loess landscapes as well as the young moraine landscape with typical periglacial landscape elements such as extensive, flat sandy areas, hills and depressions are covered.
The research topics include land use systems, water and landscape budgets in agricultural landscapes and small catchment areas. Specifically, long-term monitoring of runoff and water quality is conducted along the Salza River, and research is conducted at the TERENO site DEMMIN on remote sensing monitoring and the use of remote sensing for precision agriculture. The Agricultural and Food Research Centre (AEVZ) Merbitz is used to answer soil and agri-geographical questions. Accordingly, the landscape laboratories are equipped with field measurement technology and are sampled in campaigns on a regular or question-based basis.
All landscape laboratories are visited as part of courses in the geography programme. The results collected in the landscape labs can be the basis for final theses and are sometimes also used in projects. The focus of each landscape laboratory varies due to the natural features of the area, but usually includes identical learning objectives and content depending on the semester of study.
2355391
MDLREVTX
PeerReview
items
1
american-journal-of-plant-sciences
10
date
desc
1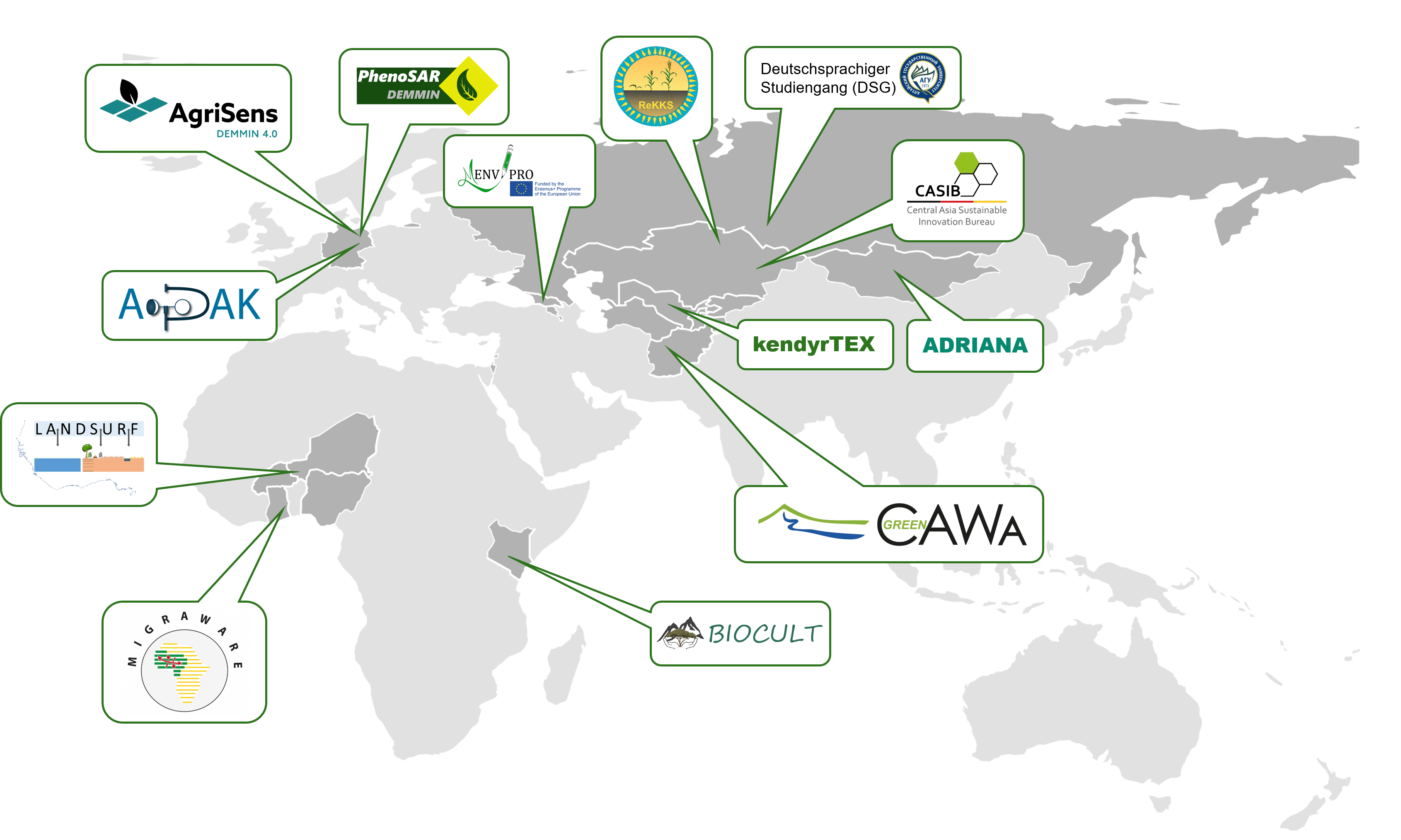 Subproject: Effects of land use and agricultural management systems on wind erosion along a climatic gradient in the dry steppes In the steppe regions of Kazakhstan and southwest Siberia, climate
Read more »
The BIKASA project aims to develop an innovative educational offer on climate adaptation for the agricultural sector in Saxony-Anhalt. University institutions of the Martin Luther
Read more »
Sub-project leader: Christopher Conrad Team: Project partners Department of Hydrogeology, Technical University of Berlin Department of Applied Geology, University of Göttingen Department of Ecosystem Services,
Read more »
The innovative content of the completed project consisted in the development of an integrated educational concept that combines the possibilities of classical classroom learning and
Read more »
2355391
2XDMJIQC
dissertation
items
1
annals-of-hematology
date
desc
1.
Tetteh G (2022) Optimal delineation of agricultural parcels from satellite imagery using the multiresolution segmentation algorithm
1.
Kaim A (2022) Adressing land use allocation problems in German agricultural landscapes by combining multi-criteria optimization with stakeholder preferences. Martin-Luther-Universität Halle-Wittenberg
1.
Debebe BL (2021) Potential and Iimitations of biomarkers and stable isotopes for chemotaxonomy and (paleo-)climate research in the Bale Mountains, Ethiopia. Martin-Luther-Universität Halle-Wittenberg
1.
Kumar-Babu D (2021) Efficient Data Fusion Approaches for Remote Sensing Time Series Generation. Julius-Maximilians-Universität Würzburg
1.
Bauer C (2021) Spatio-temporal patterns of farmland abandonment in the irrigated lowlands of Amu Darya and Syr Darya – a retrospective analysis between 1987 and 2017 using remote sensing and geospatial data. Martin-Luther-Universität Halle-Wittenberg
1.
Vallentin C (2020) Remote Sensing for Precision Agriculture: Yield Mapping and Delineation of Management Zones with Multispectral Satellite lmagery and GIS Data. Technische Universität Berlin
1.
Dahms T (2020) Ableitung von biophysikalischen Parametern aus fusionierten hochfrequenten fernerkundlichen Zeitserien. Julius-Maximilians-Universität Würzburg
1.
Nisra G (2019) Remote Sensing of Vegetation Phenology by MODIS – challenges in data processing and validation by multispecies ground observations and LiDAR. Technische Universität
1.
Wohlfahrt C (2018) The Yellow River Basin in Transition: Multi‐faceted Land Cover Change Analysis in the Yellow River Basin in the Context of Global Change Using Multi‐sensor Remote Sensing Imagery. Julius-Maximilians-Universität Würzburg
1.
Knauer K (2018) Vegetation Dynamics in West Africa: Spatio-temporal Data Fusion for the Monitoring of Agricultural Expansion. Julius-Maximilians-Universität Würzburg
1.
Lewinska KE (2017) Multi-scale detection of drought impact on the mountain forest of South Tyrol. Universität Graz
1.
Ahmadian N (2017) Integrating Satellite Remote Sensing and In-situ Measurements to Estimate the Biophysical Parameters of Agricultural Crop using Multispectral and Radar Data. Universität Greifswald
1.
Marz M (2016) Identification and assessment of driving forces of land and soil degradation in the South African province of KwaZulu-Natal and the Kingdom of Swaziland. Martin-Luther-University Halle-Wittenberg
1.
Mahmoud MI (2016) Integrating geoinformation and socio-economic data for assessing urban land-use vulnerability to potential climate change impacts. Kwame Nkrumah University of Science and Technology Kumasi
1.
Knöfel P (2016) Optimierung der Energiebilanzmodellierung zur Ableitung der Evapotranspiration durch Entwicklung eines physikalischen Bodenwärmestromansatzes am Beispiel der Region Khorezm (Usbekistan). Julius-Maximilians-Universität Würzburg
1.
Zoungrana BJ-B (2016) Vegetation dynamics in the southwest of Burkina Faso in response to rainfall variability and land use. Kwame Nkrumah University of Science and Technology Kumasi
1.
Forkour G (2015) Mapping Landuse and Landuse Change Pathways in the Sudanian Savanna of West Africa. Julius-Maximilians-Universität Würzburg
1.
Löw F (2014) Agricultural crop mapping from multi-scale remote sensing data Concepts and applications in heterogeneous Middle Asian agricultural landscapes. Julius-Maximilians-Universität Würzburg
1.
Thiel M (2013) Nutzung von Texturinformationen hochaufgelöster SAR-Daten zur Beschreibung von Siedlungsflächen. Friedrich-Schiller-Universität Jena
1.
Schuster C (2013) Change Detection Analysis for the Monitoring of NATURA 2000 habitats using Rapid Eye and TerraSAR-X satellite data. Technische Universität Berlin
1.
Dietz A (2013) Central Asian Snow Cover Characteristics between 1986 and 2012 derived from Time Series of Medium Resolution Remote Sensing Data. Julius-Maximilians-Universität Würzburg
1.
Fritsch S (2013) Spatial and temporal patterns of crop yield and marginal land in the Aral Sea Basin: derivation by combining multi-scale and multi-temporal remote sensing data with a light use efficiency model. Julius-Maximilians-Universität Würzburg
1.
Dubovyk O (2013) Multi-scale targeting of land degradation in northern Uzbekistan using satellite remote sensing. Universität Bonn